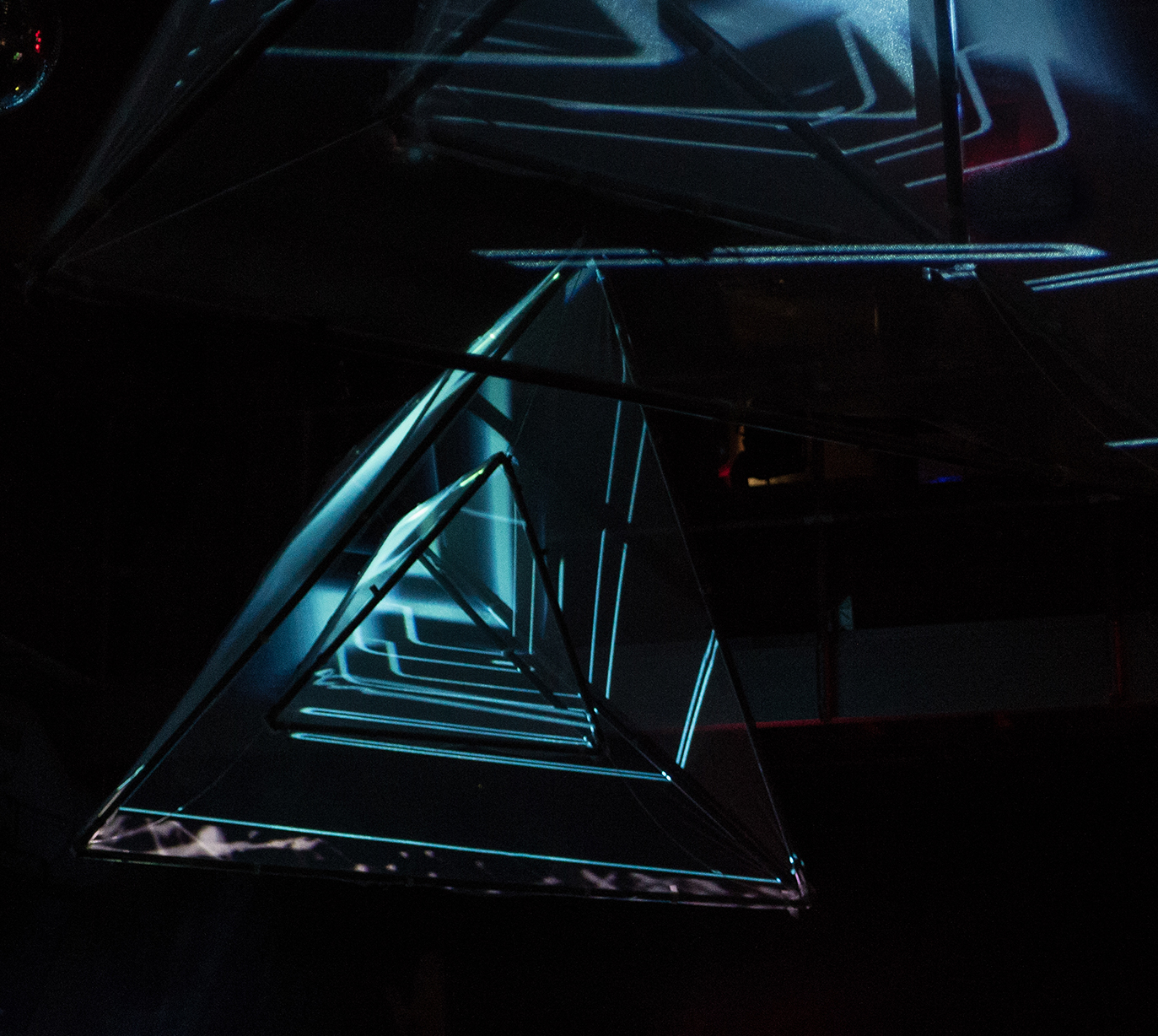 Carolien Teunisse (DEFRAME)
A new view into an imaginary world is created with a data-driven portal appearing from the futuristic architecture within Delft's train station. Visitors encounter an abstract projected vortex which connects the past with the present in a poetic way.
A data-driven portal creating a view into an imaginary world appears from the futuristic architecture within Delft's train station.
The light shaft's function for daylight entry is reinterpreted and transformed to provide a data window to display Delft's past by projecting light. Organic moving animations illuminate the ceiling, generated based on the city's open data found at delft.dataplatform.nl
On this special site passed by thousands of visitors to Delft every day, Highlight Delft commissioned Carolien and DEFRAME to create a site-specific intervention augmenting the existing architecture. As visual media artists working across a spectrum of media technologies the collective had previously transformed various buildings and large spaces into living landscapes using light, image and sound.
Drawn by the unique geometry within the futuristic architecture of the trainstation, the collective chose the light shaft as a suitable canvas for the intervention. Creative placement of projectors on a temporary floor resulted in very steep angles, significant technical and digital craftsmanship challenges to realise this project.
Special thanks to NS and SDXAV.
About DEFRAME
DEFRAME is a collective of like-minded artists that focus on creating interactive and site-specific installations, live visual performances and scenographies. They aim to merge the worlds of different dimensions, code languages and various types of media.The experience of the overall picture is a very important aspect of their work; audio, visuals, light and space should all work together to form an immersive experience. In order to achieve this, their work is often site-specific, or consists of custom made surroundings or stages.
This has brought the collective to many exciting and beautiful venues in both the Netherlands as abroad. Another important part of their work is to share their knowledge, in order to give something back to the coding community.
For this project DEFRAME members Carolien Teunisse and Bram Snijders collaborated to create a site-specific commissioned work in the hall of Delft's central station.
Special thanks to our technical partner SDXAV for realisation of Stroomtijd.
In collaboration with Prins Bernhard Cultuurfonds