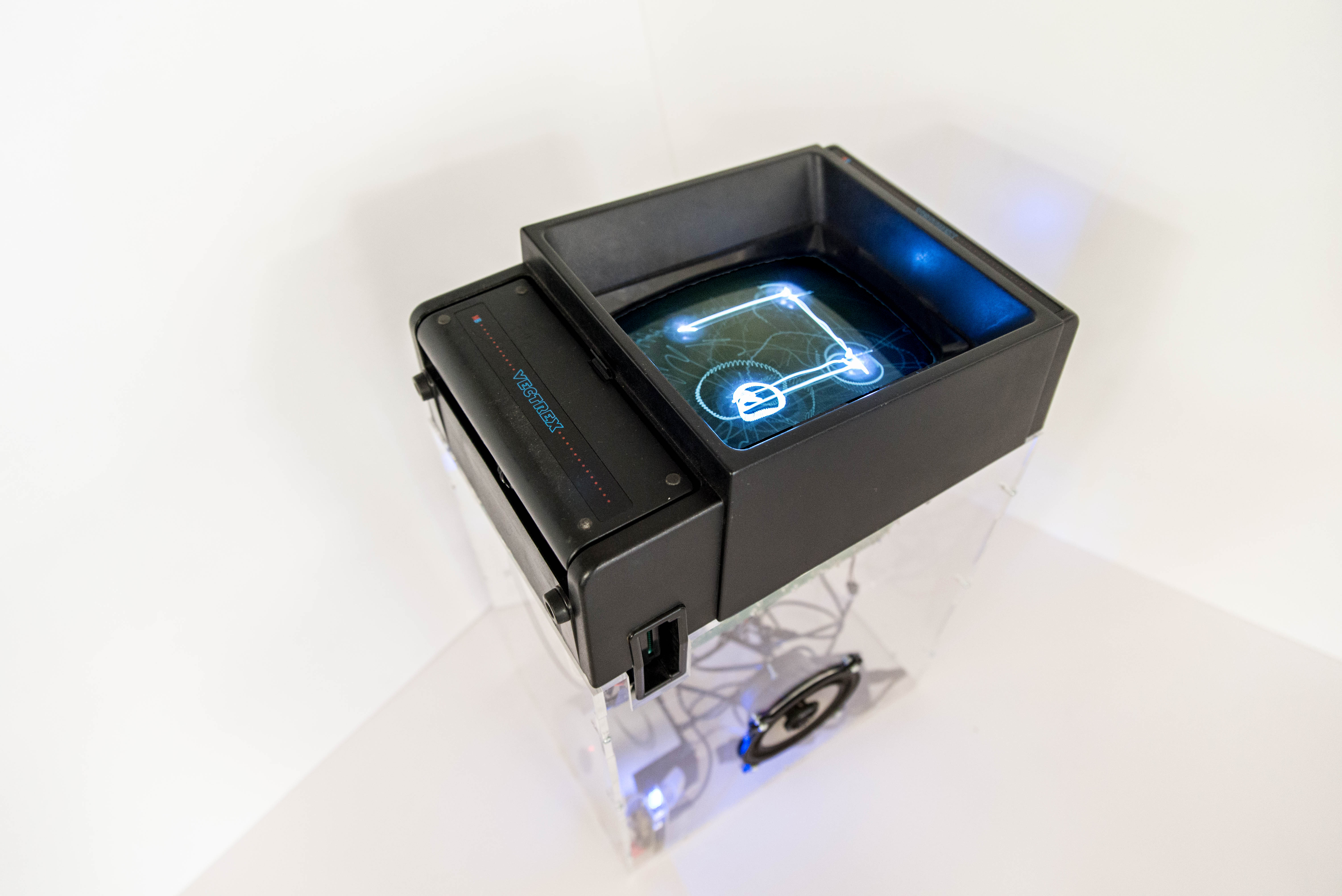 A hacked Vectrex, a game console from the '80s, brought back to life as a hybrid zombie: half analog, half digital. Telling a story about space geometries and harmonic ratios with Light and Sound perfectly synchronized in a simple but powerful synesthetic discourse
'An audiovisual story-telling through analog electronics. See the Sound and Hear the Light.'
In a world that quickly forgets the past, JesterN went back in time to the era of analog technologies to scavenge and resurrect what's been left behind. They call it "Media Archaeology": brushing of the dust from old tools from a civilization that hastily jumped into the digital world and left behind forgotten ghosts. These tools have strong personalities: they show a unique fluidity compared to their digital successors. In Celestial Harmonies JesterN has hacked a Vectrex, a game console from the '80s, to bring it back to life as a hybrid zombie: half analog, half digital. I chose it for its vibrant beam and I hacked it so that I could draw shapes with sound. I tell a story about space geometries and harmonic ratios with Light and Sound perfectly synchronized in a simple but powerful synesthetic discourse.
About JesterN
Alberto Novello a.k.a. JesterN 's work is directed towards the creation of probabilistic multi-media architectures, on the technological limit between instability and error, failure and expression. Lately he investigates analog ways of controlling light with sound. His works have been presented at Centre Pompidou in Paris, Amsterdam Dance Event, Venice Biennale, New York Computer Music Festival, Bozar Bruxelles, Rewire Festival Den Haag, Seoul International Music Festival, Sonic Circuits Washington DC, Centro Mexicano de Musica y Artes Sonoras.
Special thanks to Vakwerkhuis.
More information
http://www.jestern.com/
https://www.instagram.com/_jestern_/