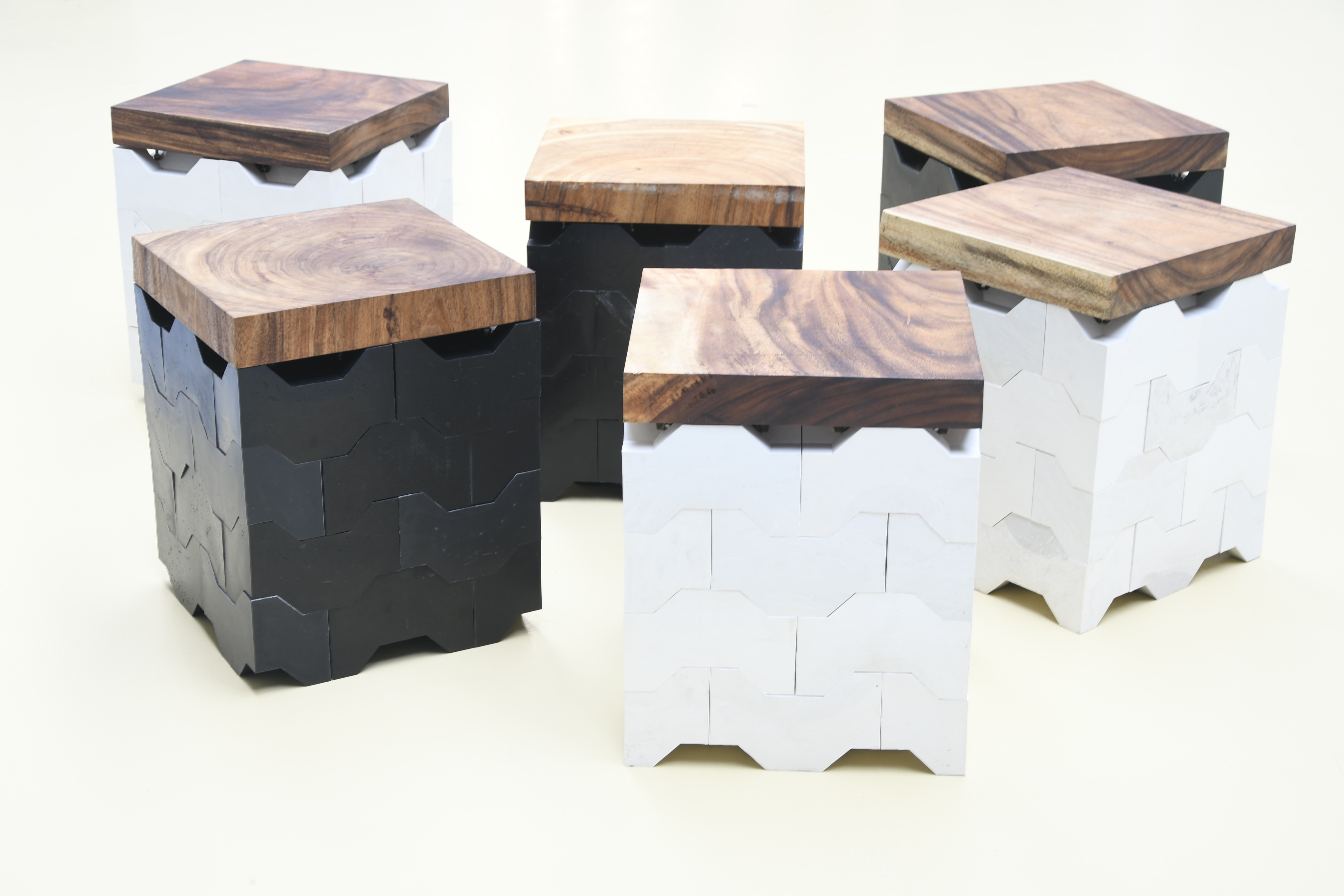 UniBrick is a new building material dealing with the global problems of plastic waste streams and qualitative and affordable housing within one brick. Each brick is made of several kilos of 100% recycled plastic and can be built into furniture and eventually entire houses.

Building homes with recycled plastic.
DUWO, specialist in student housing, commissioned Rushabh during Highlight 2018 to create several urban furniture modules which can be arranged in different ways based on the activities and needs of the students.
Around the location of DUWO Rushabh presents the 6 stools built with 24 Unibricks, helping to recycle 36 kg of waste plastic. The bricks are locked together using metal rods and topped off with a wood finish. These units can be used as a seat, bench, low table, outdoors seatings, pop-up stage etc. These units will be placed in the common space of a student housing building in Delft.
As there is no need for a binding agent like industrial glues, these bricks can be easily re-recycled after use, creating a constant loop of material flow.
The bricks for urban furniture are one step in a big idea to scale up the recycling of plastic waste streams into valuable building products which eventually could be used to construct houses.
Rushabh Chheda and Conscious Designs
Rushabh Chheda is an architect who has lived most of his life in Mumbai, India. He obtained a masters degree at TU Delft focused on innovation and sustainability-driven projects. During his studies he lived around the block and worked on several projects at the Science Centre – including his graduation project which marked the start for UniBrick. Rushabh's personal motivation and passion as an architect and a designer are to work towards creating meaningful ideas, that are relevant socially, economically and environmentally, which also shapes the vision of his startup venture, 'Conscious Designs'. Currently, working together with Frans Taminiau on the project "UniBrick". Their project has proven to be brick hard after they consecutively won the "Clean Energy Challenge" (What Design Can Do Foundation & UN Climate Change), TEDxDelft award, Falling Walls prize and were a finalist in the Change Makers challenge.
UniBrick is presented with thanks to DUWO and Mooie Boules.
More information
Conscious Designs
Rushabh Chheda
Breaking the wall of affordable housing and waste plastic.
TU Delft Student Stories