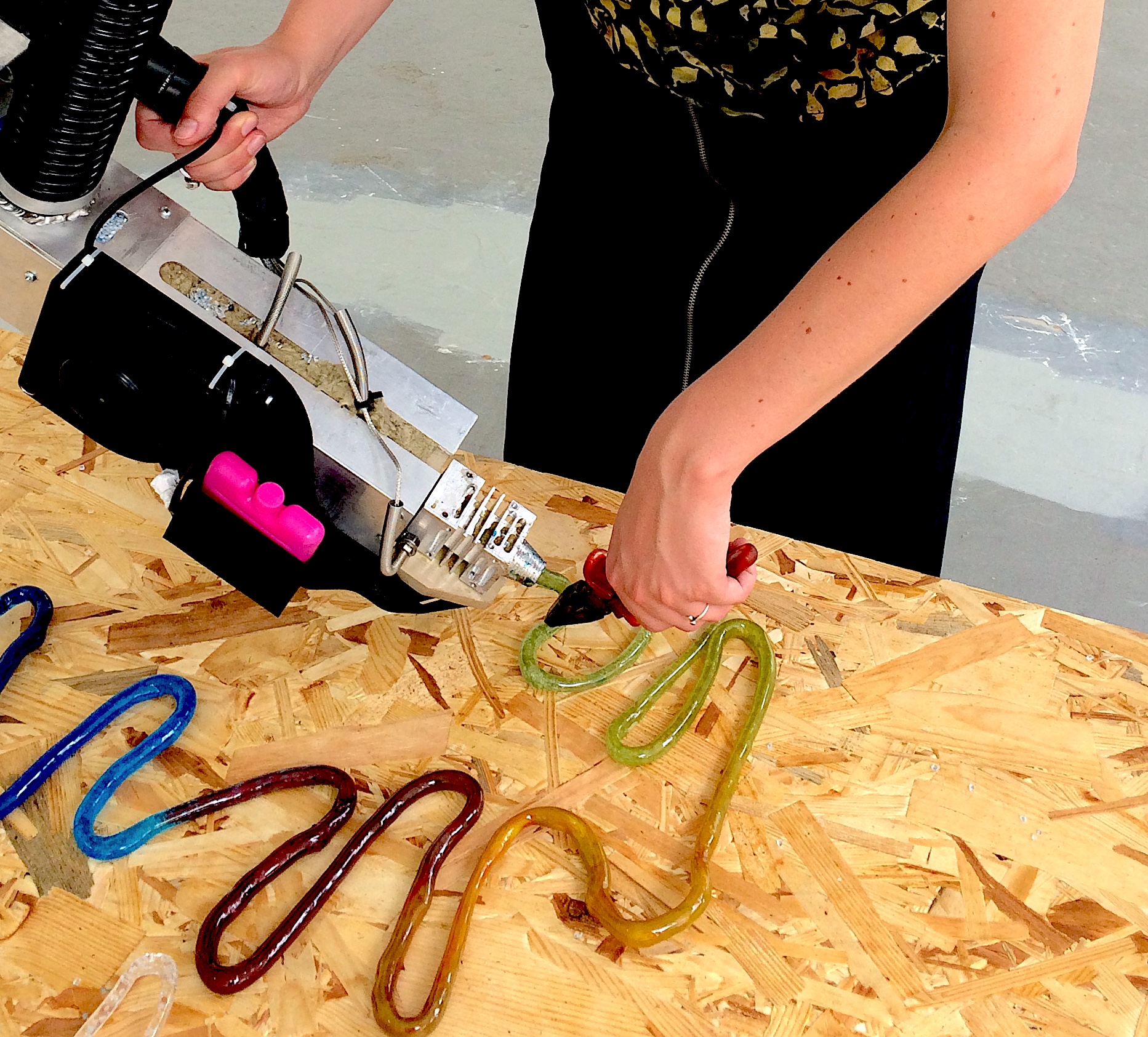 Thursday, Friday, Saturday 16:00 - 18:30*
*There is limited capacity, get your (free) ticket via tickets. Only valid in combination with a Highlight-pass.
Have you ever found yourself sitting in a cramped position in front of your screen, trying to be creative? What if we reframe the way we design technology? Can we balance the human-machine relationship? Join me during the workshops where I share with you how I search for an answer through my, self-developed, intuitive 3D-printer called Ana.
'An intuitive 3D-printing' workshop; a way to paint in 3D using recycled plastic, a new tool balancing the human-machine relationship.'
During this workshop participants experience what it feels like to paint in 3D using recycled plastics. The slow process of drawing with plastics has a meditative effect and challenges the participant to be patient in finding a balance in working with control and intuition. You direct the machine by hand like a big 3D-brush. The melting material 'freezes' as soon as it leaves the machine and shapes your movements into a solid form. Participants will get to know plastics fluidity, work with pigments, learn to work with my self-developed 3D-painting machine Ana and take home their own artwork.
About Tiwánee van der Horst
Graduated in Architecture at the TU Delft, Tiwánee van der Horst became fascinated by the connection between architecture and the visual arts. Inspired by 3D-print technology she developed an intuitive analogue 3D-painting machine, called Ana, that uses recycled plastic.
Her research aims to promote creative thinking and making. The balance between people, machines and the physical environment is an important theme for her that she highlights through her art and design. She continuously reaches out to disciplines such as dance and music for inspiration on intuitive expression through physical body movement.
In her latest installation, 'Inside A Painting', 3D-brushstrokes of 2 meters high melt together to form a large colourful wall.
More information
www.tiwaneevanderhorst.com