How can we imagine this invisible dimension of reality that is shaping our world?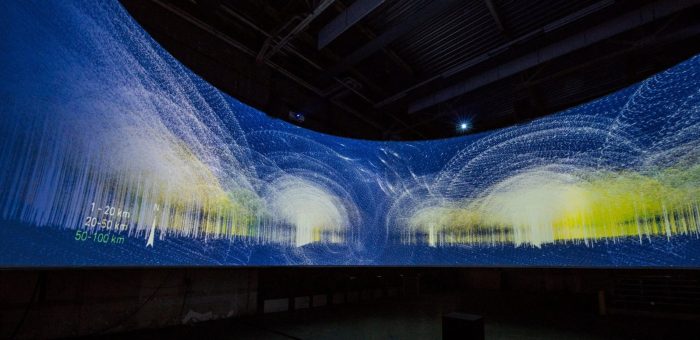 Highlight Delft and TerraIndex were looking for an artist who could use TerraIndex's datasets to visualize the invisible of soil research, from groundwater levels to soil conditions and subsidence. Richard Vijgen, whose work revolves around artistic data visualization, proved to be the perfect match.
Vijgen will work with the support of TerraIndex and Highlight Delft in the coming period to develop his work, which will eventually be presented during Highlight Delft 2024.
About Richard Vijgen
Richard Vijgen (1982) is an artist and designer whose work focuses on artistic data visualization. He creates multi-sensorial data experiences that visualize the invisible technological dimensions of reality. His work provides poetical interpretations of data and proposes a dialog between the human perspective and the disembodied world of digital networks, algorithms and wireless communication.
Founded in 2009, Studio Richard Vijgen has been evolving into an experimental practice that explores new technologies, interactions and aesthetics to visualize the invisible. Richard Vijgen's work has been exhibited in and collected by museums and art institutions across the world including Centre Pompidou, the Los Angeles County Museum of Art, The Barbican Gallery, ZKM, Ars Electronica, Vitra Design Museum and Manifesta 12.
Through his work, Richard Vijgen has collaborated with filmmakers, artists, scientists, academic and commercial organizations to visualize and explore datasets on many topics.
Richard Vijgen lectures at the department of Art Design and Technology at ArtEZ school of Art and Design and frequently serves as a guest lecturer at art schools and universities. He has received a number of awards and prizes including the Dutch Design Awards, Prix Ars Electronica, European Design Award and S+T+ARTS. Richard Vijgen writes about data visualization and digital culture and has published articles in the Yale Architectural Journal, Volume Magazine, New Challenges for Data Design and the Parsons Journal for Information Mapping.
Studio Richard Vijgen is based in the Netherlands