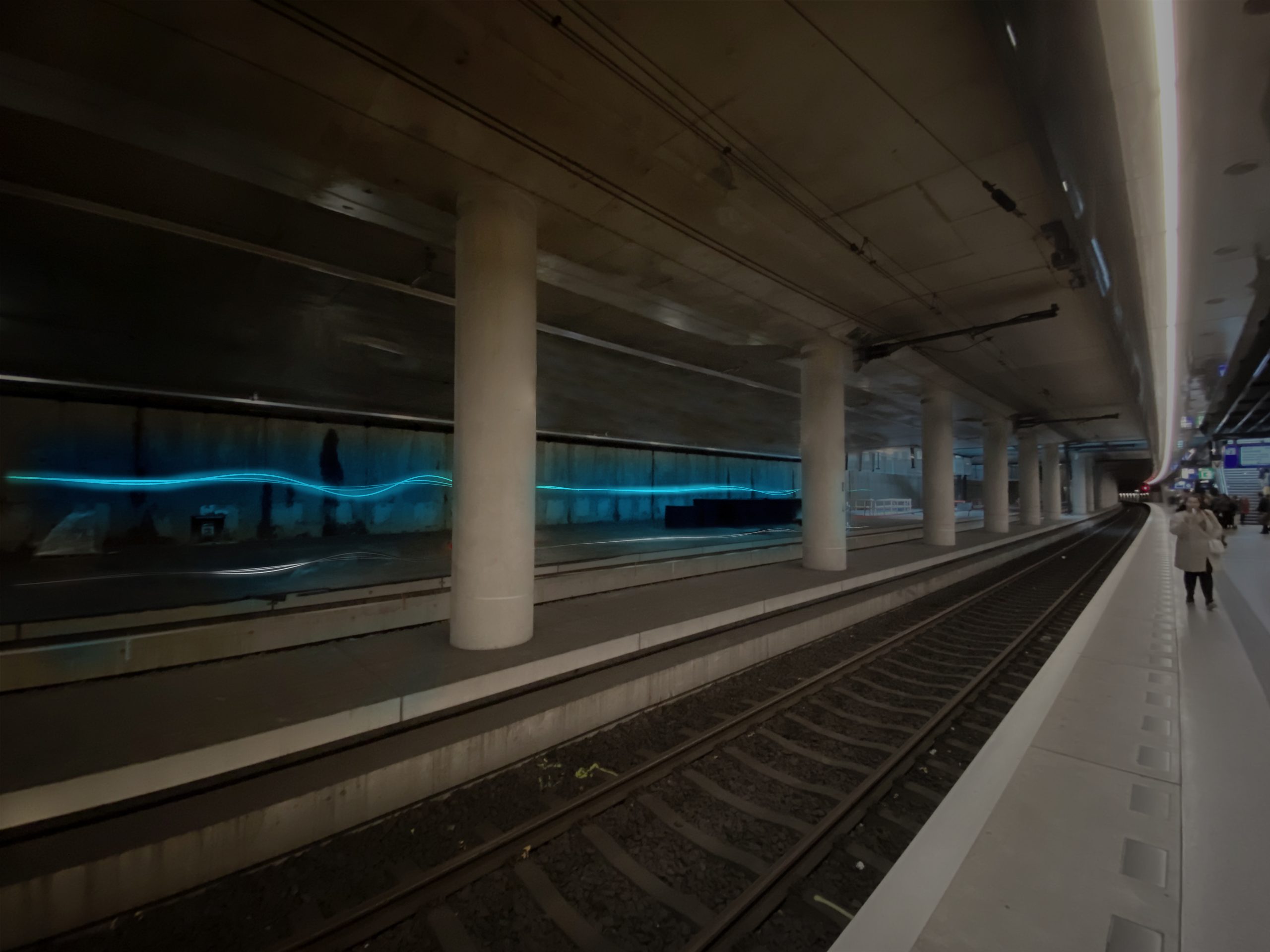 A subtle hypnotic line on a spatial sound composition vibrates and transforms along the platform.
Lijn – Delft is an audiovisual installation created specifically for Delft's new underground train station. It is a subtle but hypnotic work that consists of a 100-meter-long projected line that vibrates and transforms in relation to a spatial sound composition. The projection realised by lasers takes place on the wall opposite the platform whereby the sound moves across the entire width of the projection.
The work can be seen every day from 5:30 pm to 12:30 am, until Sunday 19 February.
About Edwin van der Heide
Edwin van der Heide is an artist, composer and researcher in the field of sound, space and interaction. He extends musical composition and musical language into spatial, interactive and interdisciplinary directions. His work comprises installations, performances and environments. The audience is often located in the middle of the work and challenged to actively explore and interact with the artwork.
Besides running his own studio he is part-time lecturer and researcher at Leiden University, involved in both the Leiden Institute for Advanced Computer Science (LIACS) including the Media Technology MSc programme, and the Academy for Creative and Performing Arts (ACPA). From 1995 till 2016 he was a lecturer at, and later also co-head (2014-2016) of, the ArtScience Interfaculty of the Royal Conservatoire and Royal Academy of Art in The Hague. He was Edgard Varèse guest professor at the Technische Universität Berlin (2009) and won the Witteveen+Bos Art and Technology Award 2009 for his entire body of work. He was an invited artist and guest professor at Le Fresnoy, studio des arts contemporain in France for the year 2011-2012 and guest lecturer in the Master Contemporary Arts Practice of the HKB, Bern University of the Arts in 2019. He has presented his work at renown museums, festivals, galleries and music venues as SMAK - Ghent, Ars Electronica Festival - Linz, Stedelijk Museum - Amsterdam, V2_'s DEAF - Rotterdam, ICC - Tokyo, NAMOC - Beijing, Transmediale - Berlin, SONAR - Barcelona, Taipei Fine Arts Museum, SFMOMA, FILE - Brazil, MAXXI - Rome, SONAMBIENTE - Berlin, Reina Sofia Museum - Madrid, ZKM - Karlsruhe, Art Basel Parcours Night and Donaueschinger Musiktage.