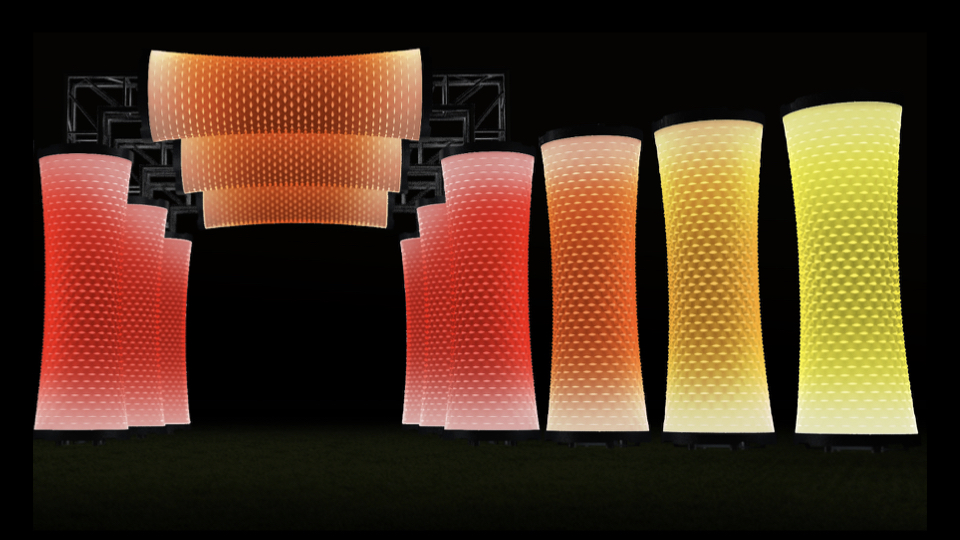 Illuminated Columns was inspired by Buitink's textile materials and techniques. By cutting patterns in textile and stretching the cut fabrics between two mounting points, Pepijn Feijen creates interesting textures on textile surfaces. Illuminating this surface from a close to parallel angle accentuates the textures in his designs.
'Colorful illuminated columns made from textile.'
These illuminated columns are ideal for decorating a large environment with minimal materials. It's simple design and production process easy to use in large numbers. Because Pepijn's columns are designed around the already existing truss system, they can be connected with each other and paired with angled trusses form a wide array of sturdy constructions. Together with endless light and colour possibilities, these columns become a highly customizable decoration piece that can fit the bespoke needs and styles of any event or festival.
Illuminated Columns was one of the ideas selected by Highlight Delft for futher development. Together with Controllux and Buitink Technology Pepijn's columns are tested on a larger scale.
About Pepijn Feijen
Pepijn Feijen studied Industrial Product Design at the Hague University. He currently lives in Rijswijk, very close to Delft. In his designs he is always exploring new ways to use familiar materials. Pepijn creates designs in which the technique, the way it is made and the way it works, is what makes it beautiful; aesthetic determined by functionality.
In collaboration with Buitink Technology & Controllux



Special thanks to Tentech, Eric Krijthe and Mark Feijen.