Oracle is a prototype for an installation and web app that gives access to 150k publications from the TU Delft Library and generates unique animated 'covers' for each publication using a consistent visual system.
The TU Delft Library Main Hall's bookshelves contain 25,000 volumes. In the basement archives, there are tens of thousands more books. Digital collections will soon match and exceed these numbers. There are over 60,000 documents in our institutional repository and the number grows exponentially.

Referencing and searching documents has long been the business of the library. Library science has a long history with traditions and methods that are being reimagined in the digital landscape. Libraries across the globe are exploring how digital technologies can visualize and activate collections.
With the first Oracle prototype, the TU Delft Library and RNDR look to the future of data visualization for institutional repositories. The custom-coded project uses machine-learning processes such as graph embeddings, text embeddings and autoencoders to create multi-dimensional (of up to 500 dimensions) maps out of the large dataset of TU Delft student theses and dissertations.
Oracle 'cloud' as interface to access all 150k publications by the TU Delft of the last 150 years. All publications have their own unique place depending on the topics of the publication. Colours indicate the main faculties.
One of the problems with digital collections is the lack of a tangible object or 'artifact.' Oracle generates unique animated 'covers' for each publication. We encourage you to explore the collections visually using the touch interface to navigate the algorithm's nearest neighbors and cover designs in the map.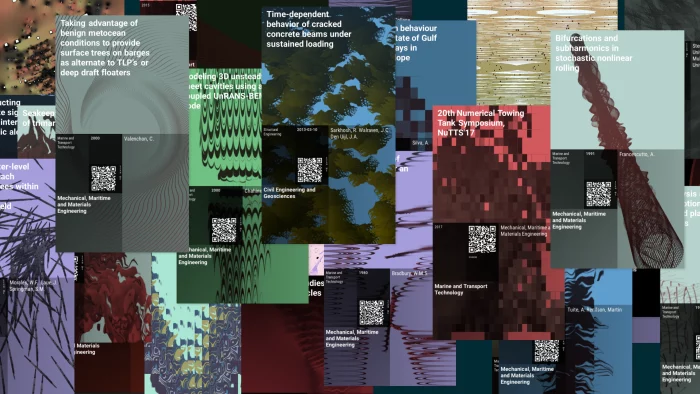 Oracle is just the beginning. TU Delft Library is embarking on several prototypes to transform the iconic book wall—the backbone of their collections—into a Collection Wall with academic heritage, digital collections and innovative ways to interact with knowledge befitting a world-class university of technology.
About RNDR
RNDR is a design studio for interactive media that develops 'tools' that are only finished by how they are used.
To achieve this, we develop processes, create structures, design visualisations, code programs, and create interactions. The end result can manifest itself across different media, ranging from interactive installations, data visualisations, generative identities, prints and everything in between – often real-time. We are triggered by how information and technology transforms networks, cultures, societies, relationships, behaviours, and interactions between people. Our work explores and engages with hybrid space as it embraces both digital and physical realms.
RNDR was founded in 2017 in The Hague, (NL). Its main members have years of experience as partners, computer scientists, designers, art directors and developers at LUST and LUSTlab.
One of our core projects, and basis for most of our projects, is OPENRNDR, an open source framework for creative coding –written in Kotlin for the JVM– with over nine years of development, that simplifies writing real-time audio-visual interactive software. OPENRNDR is fundamental for the capacity of RNDR as a studio, as it allows us to realize complex interactive works. OPENRNDR was awarded the Dutch Design Award 2019. 
Thanks to TU Delft Library