S
Shaping Sunlight
Jólan van der Wiel, Benthem Crouwel, Chris Kievid
Space of Possibilities
The Social Hub
District Delft City Centre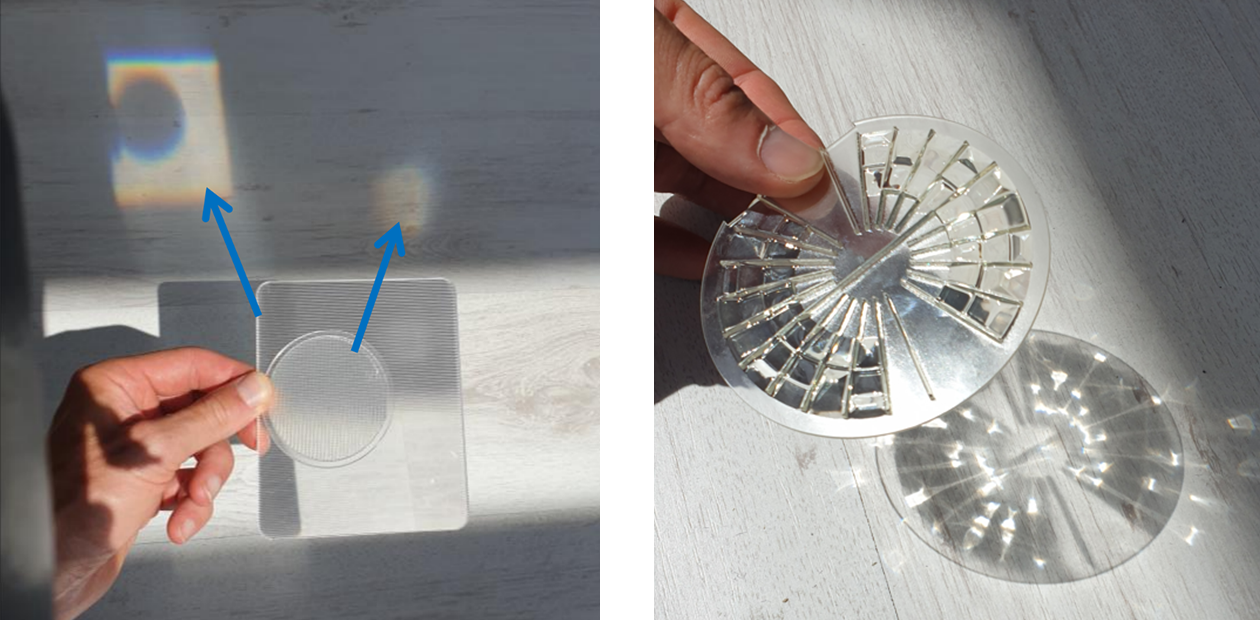 An innovation on how natural forces can merge into design and architecture
Jólan van der Wiel and Benthem Crouwel Architects have been working together under the name 'Forces for Architecture' since 2015. They have created a research lab where they investigate how natural phenomena can be utilized in the building environment. They explore questions like "How can we harness the power of wind to create light?" and "How can we design buildings that adapt to seasonal changes?"
Their current project aims to control the inner climate of a building in a more sustainable way. By using custom designed optical lenses that work in conjunction with the motion of the sun, they can precisely redirect incoming sunlight. This opens up new possibilities for designing with natural light. Not just to better regulate incoming sunlight into buildings to create healthier working environments, but also to be used as a creative element in architectural design to enhance the atmosphere and experience of indoor spaces.
For this project, they have partnered with designer Chris Kievid, who is responsible for developing the software to design the optical geometry and the computerized manufacturing process. Their digital and physical prototypes illustrate that it is possible to shape sunlight to almost any desired functional or aesthetic outcome, and that physical realizations of such optimized optics are indeed feasible.
Their first tangible prototypes are developed in collaboration with Luximprint, by making use of a novel additive manufacturing technology for 3D printing of custom optics. In parallel, they are exploring methods for large-scale architectural implementations, by means of engraving distinct patterns into glass to bend incoming solar rays.
With the capability to precisely manipulate sunlight, the possibilities for architectural design and functionality are endless. What creative ideas would you envision for shaping and utilizing sunlight in your designs?
About Jólan van der Wiel, Benthem Crouwel, Chris Kievid
Jólan van der Wiel and Benthem Crouwel Architects started to work together since 2015 under the name Forces for Architecture. This is a lab where they do research on how natural phenonemens could serve the building environment. Questions like, how could we transform wind into light? How could a building move along with the seasons? And for this project we asked ourselves how we could control the incoming sunlight in such a way that we know exactly how to control the inner climate of the building. For the technical part and the software, we started to work together with Chris Kievid who is developing the software and technical part for this project. We are not working with a fixed incoming light but with the sun. We developed a method that calculate how the sun moves along the building and after the software calculates how to shape and print these lenses so that for exact moments the sun bends to specific places exactly like the designer wanted. First they started with Luximprint to print 3d lenses. And now they are exploring methods in where you can work with bigger surfaces and found methods to engrave into glass and bend incoming sunlight.
Jólan van der Wiel leads a collaborative design practice that conducts artistic experiments within multiple themes and environments. His creative explorations result in original design tools, new materials and unique objects.
Benthem Crouwel Architects is a renowned Amsterdam based architecture firm. For almost four decades, Benthem Crouwel Architects has been creating innovative, flexible and efficient designs in a variety of scales: from universities, museums, bridges, railway stations, metro lines, offices, housing, malls and urban plans to bicycle tunnels, design projects and tiny houses. In all designs, Benthem Crouwel Architects seeks a balance between economic, social and ecological interests, with a particular focus on innovation and sustainability.
Chris Kievid is a freelance creative specialising in designing and constructing large scale experiences to engage the public in captivating ways, using physical spaces as the arena for interaction.
Jólan van der Wiel
From his fascination for extreme natural phenomena and the influence of natural forces on material, Dutch designer Jólan van der Wiel (1984) experiments with material, environment and techniques, in search of the natural logic of design. His creative explorations result in innovative design tools, new materials and unique objects that challenge our understanding of the 'invisible' forces.
Van der Wiel graduated from the designLAB department of the Gerrit Rietveld Academy in 2011 and founded his own multidisciplinary studio in the same year in Amsterdam, which is now located in Zutphen. His intuitive approach to design spans several disciplines. From his studio, Van der Wiel therefore works closely with experts and creators from fashion Architecture , science and design, such as Iris van Herpen, Benthem Crouwel Architects, Dutch Invertuals, Volvo Car Group and Dom Perignon.
His work has been exhibited worldwide from China to the United States. Among others in the Metropolitan Museum and the Cooper Hewitt Smithsonian Design Museum in New York City, the Scheepvaartmuseum in Amsterdam, the Grand-Hornu Museum (Belgium), the Design Museum Ghent, the London Design Museum, the Bauhaus-Archiv Museum (Berlin) and the Montreal Museum of Fine Arts.
His most famous design, the 'Gravity Stool' (2011), is part of the permanent collections of the Vitra Design Museum and the National Gallery Victoria (Melbourne). Van der Wiel's innovative work has been awarded, among others, the Design of the Year Award in London, the Interior Innovation Award (Cologne), the DMY Award (Berlin) and the BIO 23 Award at the 23rd Biennale of Design in Ljubljana. In addition to his work as a designer, Van der Wiel speaks and inspires as a guest lecturer for various national and international institutes such as the Technical University
https://www.jolanvanderwiel.com
Benthem Crouwel Architects
Benthem Crouwel Architects was founded in 1979 by Jan Benthem and Mels Crouwel. Today, architects/partners Pascal Cornips, Daniel Jongtien, Saartje van der Made and Joost Vos lead the international team of some fifty professionals at the Amsterdam based Benthem Crouwel LAB. Well known buildings are: Stedelijk Museum of Modern and Contemporary Art, Anne Frank House, Amsterdam Airport Schiphol, Ziggo Dome, RAI Convention and Exhibition Centre Amsterdam, North/South-metro line in Amsterdam, multiple metro stations in Paris, and high-speed railway stations Amsterdam, Rotterdam, The Hague and Utrecht.
Benthem Crouwel Architects designs beyond architecture - creating buildings, spaces and infrastructure that contribute to an urban ecosystem. Their projects have meaning beyond their physical boundaries as they promote urban integration and bring lasting value to their surroundings. They improve public space and simplify daily life, often in unexpected ways.
Collaboration is key to Benthem Crouwel's practice. They believe excellent architecture starts with an open mind: through curiosity, attentive listening and detailed research we are able to reveal the question behind the question. Designs then take shape in multi-disciplinary co-creation with the client and all stakeholders. This is how not just the design challenge is met, but projects can be elevated to a future-proof urban asset. The outcome of this process are functional yet exciting buildings that people can connect with and be proud of, now and in the future.
Experimenting with sunlight and daylight is not new to Benthem Crouwel Architects. Attempts have been made to manipulate daylight in various buildings; by stopping, scattering or directing it. The all-encompassing roof of the Charity Lotteries in Amsterdam and the energy-neutral University Building LAB42 are just two of the many examples of Benthem Crouwel Architects' architectural experiments with sunlight in built projects.
https://www.benthemcrouwel.com
Chris Kievid
Chris Kievid (1977) moves between the worlds of architecture, art and technology. He became an architect because the relationship between inventing something and making something fascinated him. His focus is designing 'Interactivated Spaces'; interactive spatial experiences in which experience and wonder are central. And where the user and the space come together, go together and merge seamlessly. Interaction plays a very important role in this.
Designing and building non-standard and responsive architecture started as a researcher at the HYPERBODY | department TU Delft (2001-2013) and as an architect the architectural office ONL|OOSTERHUIS_LÉNÁRD (2001-2006). Kievid's design methodology is based on scientific and biological principles, in which all kinds of intelligent materials (living and inert) interact with stimuli from the environment. The result of this is progressive projects that are both functional and poetic, that are able to stimulate the imagination and for that reason are able to engage people. The most famous examples of this are the projects 'Icoon Afsluitdijk', 'Smog Free project' and 'Van Gogh cycle path' that he developed as Head of Design at STUDIO ROOSEGAARDE (2014-2021).
Thanks to Luximprint, Fonds Kwadraat.