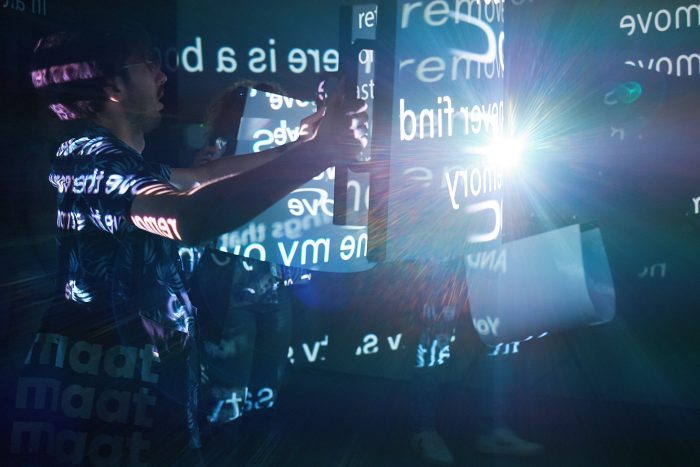 YOU ARE SOURCE PROJECTION AND REFLECTION (2019) is an ongoing series of projection-based setups focusing on non-linear reading in motion.
The piece is an attempt to rearrange the understanding of physical space and create an infinity of possible compositions that allow the imaginary to shape the notions of the viewer. The audience is invited to explore the space individually by submerging themselves into merging clouds of words using translucent screens to navigate within the playability of the environment.
About Sophia Bulgakova
Sophia Bulgakova (born 1997, Odesa, Ukraine) is an ArtScientist interdisciplinary artist and activist currently based in The Hague, the Netherlands. Sophia is working on the intersection between art, technology, and society, focusing on the relationship between light, perception, and imagination. Through various sensorial inputs in her installations and performances, she engages viewers, impacting their ways of perceiving reality and exploring new possibilities beyond it.
Sophia studied sculpture in Kyiv and then got a foundation diploma in Photography and Time-Based Media at the University of the Arts London in the UK. After that, she graduated from the ArtScience Interfaculty at the Royal Academy of the Art and Royal Conservatory in The Hague, the Netherlands. Her works were exhibited at CTM Festival (DE), Sonic Acts Festival (NL), Baltan Laboratories (NL), Mediamatic (NL), and Ningbo City Exhibition Hall (CN), among other places.