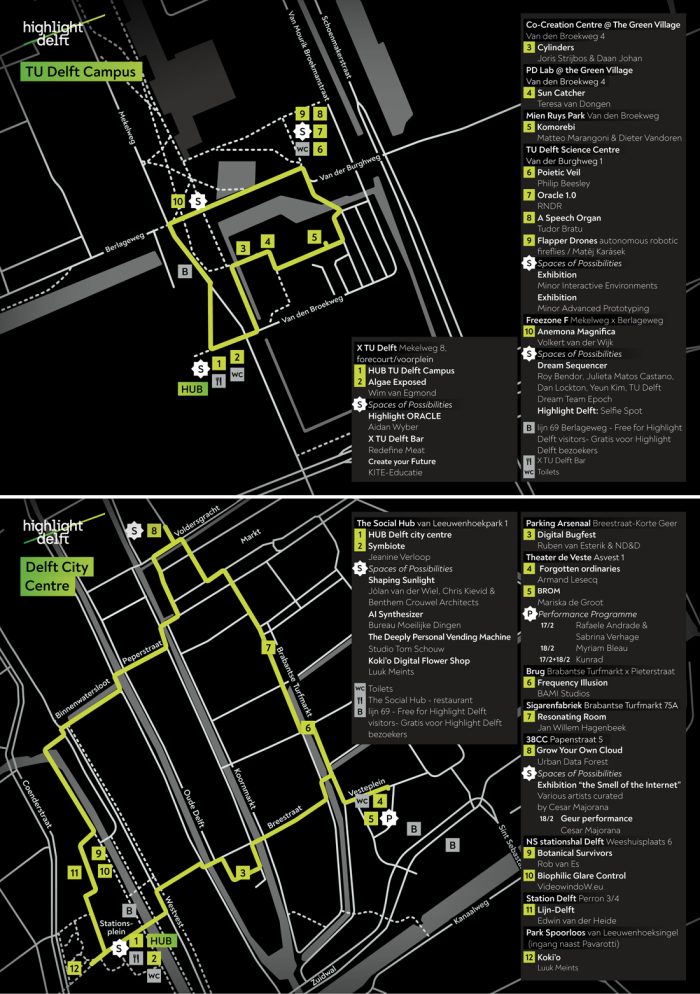 Program
Highlight Delft takes place from 16 to 18 February 2023.
During three days all locations are open from 5:30-11:30 pm (17:30-23:30 h).
Both Hubs are open from 5:00 pm (17:00 h).
Route
Visit the city of Delft to discover innovative art and technology merged into experimental installations. Unique indoor and outdoor locations are open for three nights, presenting a special view of what the future can look like. Start your tour at one of the two Festival Hubs:
Delft City Centre
TU Delft Campus
The inspiring side-program Space of Possiblities is situated at the festival hubs, Theater de Veste and Expositieruimte 38CC. See map for more information, maps are also available in print at the hubs.
Tickets
With a Highlight Delft ticket you can visit all festival locations. After presenting your e-ticket at the ticket booth at one of the Hubs, you'll receive a festival wristband. You can start with the route at either Hub.
All tickets are available online. Late birds on sale from 16 February. After purchasing a ticket, an confirmation e-mail is sent. During opening hours of Highlight Delft you can collect your wristband at the ticket booths located in both Hubs. Hubs are open from 17:00 h/5:00 pm.
Festival Hubs
Delft City Centre: The Social Hub (van Leeuwenhoekpark 1)
TU Delft Campus: outside X TU Delft building (Mekelweg 8)
Opening hours: 5:00-11:30 pm (17.00-23.30 h).
Choose your ticket
Passepartout: 3-day pass to visit Highlight Delft, unlimited entries.
Day ticket: valid per day, 16 or 17 or 18 February 2023.
Specials:
Discount day ticket: students & youth 14 years and up.
Children under 14: free admission.
Additions
Guided tour ticket: ticket for a guided walk at one of the two routes
Photo tour ticket: ticket for a photo walk with tips & tricks how to take the best Highlight Delft picture at one of the two routes
Book a tour with guide or photographer
Join a Guided or Photo tour in Delft City Centre or TU Delft Campus. Learn more about installations, the artist and the creation process. Enjoy new facts and figures of the installation and location, or shoot the perfect picture with your smartphone or camera.
A tour takes one hour. Tour tickets are available as an addition to your day ticket or passe-partout only. Tour tickets must have the same date as your day ticket. Tours start at multiple times at all days, from both hubs.
If there are spots available still, you can also book your tour at the hub.
On foot
Highlight Delft consists of two routes. The distance of TU Delft Campus route is 1,7 kilometer (1.06 mile), Delft City Centre route is 2,3 kilometer (1,43 mile) long. The distance between the two districts is approximately 2,5 kilometer (1,55 mile). You can take bus 69 to get to and from hubs, just show your wristband to the driver.
By bike
All locations can be reached by bike. Rental bikes are available at OV fiets at station Delft.
By public transport
The Highlight Delft shuttle bus (OV bus line 69) runs approximately every 20 minutes from Delft City Center (Delft bus station) via Theater de Veste (Zuidpoort) to TU Delft Campus (TU Berlageweg) and back.
Transport with bus line 69 is free for all Highlight Delft visitors upon presentation of your Highlight Delft festival wristband. Check ov9292.nl for the exact departure times.
The Delft City Centre Hub can be reached by all buses to and from station Delft. Also tram 1 and tram 19 stop here.
TU Delft Campus Hub: bus stop TU Berlageweg, bus 69.  Last bus 69 to station Delft leaves at 11.57 PM (23:57 h). Check ov9292.nl for the exact departure times.
By car and parking
We encourage all Highlight Delft visitors to travel to the Highlight Delft Festival Hubs by public transport or bike as much as possible. When arriving by car, you can park for free at TU Delft Campus location P-Sports, van den Broekweg.
At Delft City Centre best park your car at one of the parking garages in town. Phoenixgarage and Zuidpoortgarage are closest to the City Centre Hub, and are open 24/7.
Accessibility for visitors with disabilities
Not all installations are equally accessible for wheelchair users, the hearing impaired, the visually impaired, visitors with sensory disorders such as AD(H)D, high sensitivity (HSP), Acquired Brain Injury (NAH) and Autism Spectrum Disorder (ASS).
Not wheelchair accessible: Komorebi, Sun Catcher (PD Lab The Green Village), Koki'o, Resonating Room (Sigarenfabriek) and Frequency Illusion. The installation Frequency Illusion can only be viewed from a distance. PD Lab The Green Village has a high step, but the installation Sun Catcher is clearly visible from the outside.
Epilepsy: Cylinders' flashing lights might affect the brain and trigger seizures.
Food and drinks
There are plenty of places to have a snack or a drink at the Delft City Centre route, like The Social Hub. At TU Delft Campus you can find café X at X TU Delft building, Mekelweg 8.
Update
Visit our website regularly to see updates on the program, locations and workshops. Register for our newsletter here. You can also follow us on Facebook, Instagram en LinkedIn.
Disclaimer
At Highlight Delft you are entering an area where photography, video recording, and audio recording may occur. Highlight Delft Festival reserves the right to use any photograph, video, or audio taken at the event without the express written permission of those included within the photograph, video, or audio recording for commercial and non-commercial publications.
COVID-19
By buying a pass or ticket and attending the festival you agree to comply with all COVID-19 safety protocols implemented by law at the time of the festival. Please note, Highlight Delft may choose to implement additional restrictions to the ones required by law if deemed necessary to ensure a safe event for all.