S
The Octopus Suit x Mette Sterre
Minor Advanced Prototyping
Space of Possibilities
TU Delft Science Centre
District TU Delft Campus
onderzoek en ontwikkeling naar een lichaamsmasker dat van verschijning kan veranderen
Dit project richt zich op het repliceren van de unieke mogelijkheden van de huid van octopussen. Octopussen zijn sleutelfiguren in het begrijpen van de ontwikkeling van het bewustzijn en de relatie tussen lichaam en geest via hun zenuwstelsel. Ze kunnen reageren op de omgeving door zowel hun huid als hun huidtextuur aan te passen. Ze worden beschouwd als wezens met gevoel en hoge intelligentie.
Het project is een samenwerking tussen Crossing Parallels resident Mette Sterre en 5 studenten van de Minor Advanced Prototyping en draait om een fascinatie voor octopus(huid).
Na verschillende cycli van experimenteren en prototyping werd een siliconen masker voor de arm gemaakt die op 3 manieren van uiterlijk kan veranderen: kleurverandering, vormverandering en textuurverandering. Het kleur veranderend effect wordt bereikt door gekleurde vloeistoffen door kanalen in de siliconen huls te pompen. Het vorm veranderend effect wordt bereikt door de principes van zachte robotica te gebruiken om gebieden zodanig op te blazen dat de siliconen "tentakels" kunnen opkrullen wanneer ze worden opgeblazen. De verandering van textuur wordt bereikt door vele kleinere opblazen.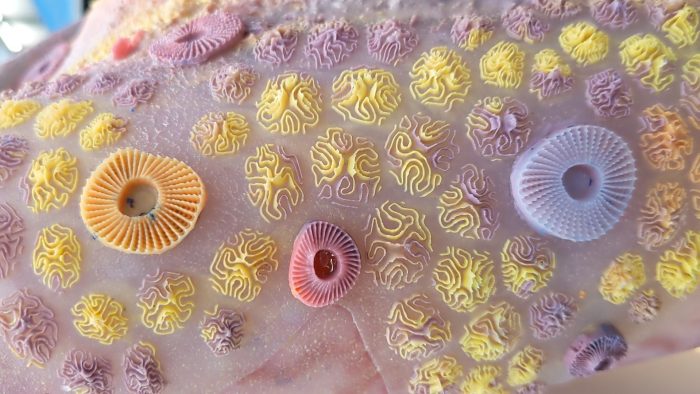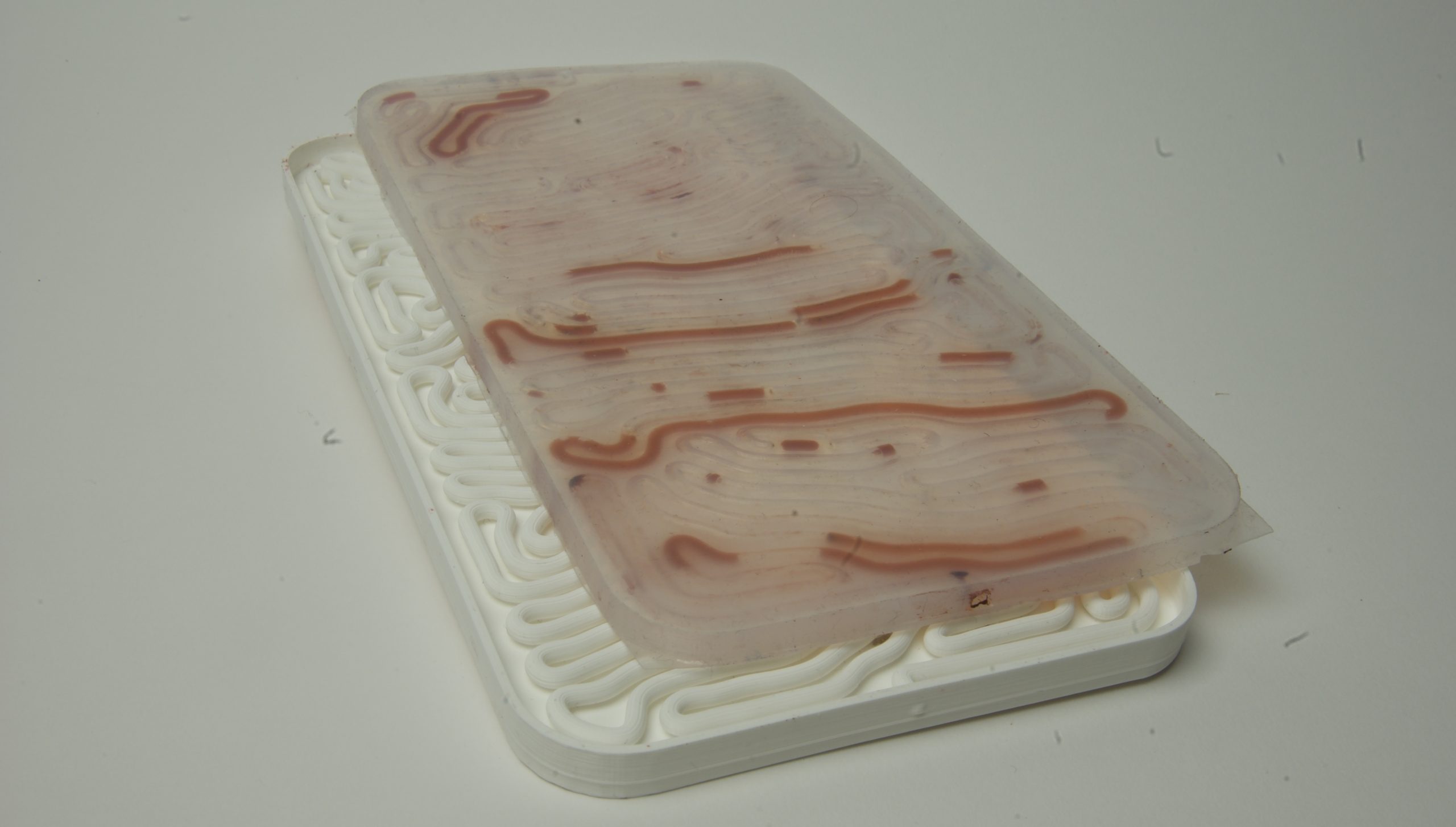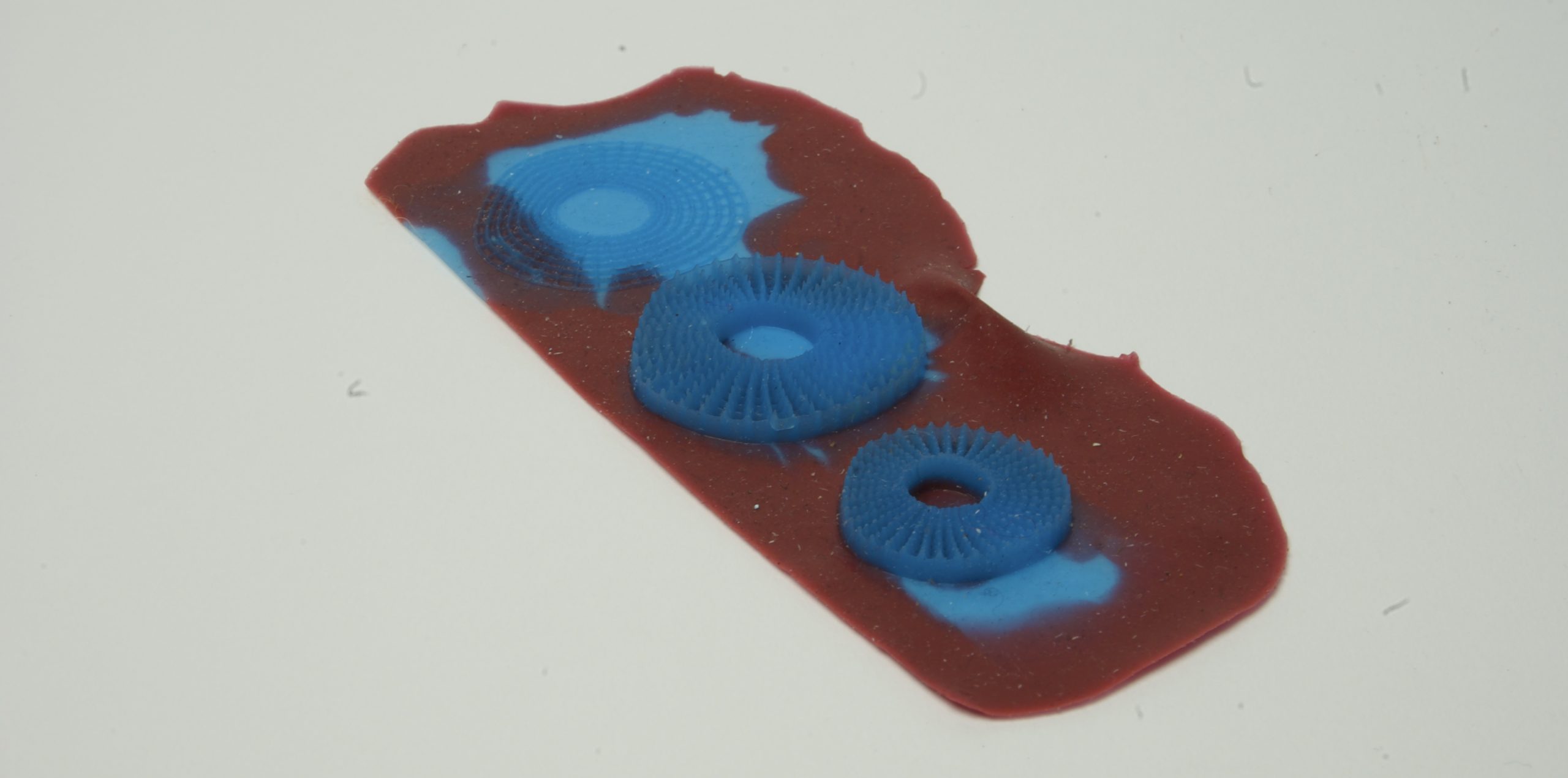 Over Minor Advanced Prototyping
De Interactive Environments minor is een 3e jaars vak van het bachelor programma waar in 5 maanden interaction design op een architectonische schaal wordt onderwezen. Studenten werken met iteratieve ontwerpprocessen waarbij maken voorop staat. Hierdoor leren zij wat interactieve technologie kan doen en welke vaardigheden je nodig hebt om met deze technologie interacties vorm te geven. Dit vakgebied is multidisciplinair wat studenten in de minor ervaren door samen te werken met medestudenten vanuit verschillende disciplines.
TU Delft Minor Advanced Prototyping docenten: Willemijn Elkhuizen, Freerk Wilbers, Noor Doucet, Eliza Noordhoek and Erik Thomassen. 
IO TU Delft
Made by Minor Advanced Prototyping students:
Niels Teuchler, Miles Luxembourg, Pauline Vaandrager, Philip Vaartjes, Maud Meerkerk, Matthijs Koerts
Supervised by: Eliza Noordhoek
Thanks to Mette Sterre, Crossing Parallels and Expositieruimte 38CC
Mette Sterre is a visual artist making body masks, that explore what we can be beyond human, linking up to Donna Haaraway's post human theory of the cyborg and Legacy Russel's Glitch Feminism. Her body masks are an embodied experience for the wearer and create another worldly experience for the spectator.
Crossing Parallels is the TU Delft artist in residency programme and brings together artists, students and researchers to share inspiration, knowledge and perspective in a context of research, experiment and creation.